If all you want to do is use Windows File History to back up to a local drive, or an attached USB drive, you don't need Lan History Manager. Windows File History handles that perfectly fine, right out of the box.
But while Windows File History supports backing up to a network share, it currently lacks certain features that simplify its use in that scenario. Most importantly, it does not attempt to wake the backup server if it's asleep. That means you must configure the server to run whenever Windows File History wants to do a backup. In practice, that often means running the server 24/7.
Lan History Manager adds the capability of waking the server prior to a backup starting, as well as a few other conveniences, like being able to start a backup on demand.
Getting Started
Lan History Manager does not replace Windows File History. Instead, it works with Windows File History to add additional capabilities. That means you have to have Windows File History on your system, and configure it to work with a backup server before Lan History Manager can do anything. Follow Microsoft's instructions to get Windows File History working with a file share on a backup server (there's also a good introduction on setting up Windows File History over at the PC World site.
Once that's done, you'll also need to configure the backup server's wake-on-lan capability, and arrange for it to go into sleep mode whenever it's not in use.
Configuring wake-on-lan is relatively straightforward, but depends on your server's particular network hardware. In very general terms, you'll need to go into Device Manager, and click a checkbox: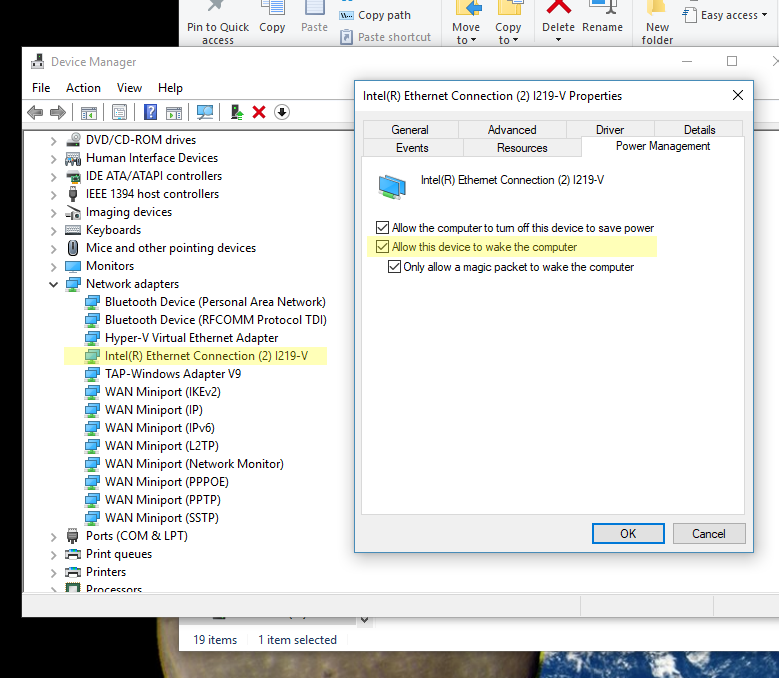 Note that in my case I also checked "Only allow a magic packet to wake the computer"…which serves as a convenient transition to the more challenging part of realizing the benefits of Lan History Manager: getting your server to stay asleep when it doesn't need to be awake. In my case, I had to check that additional box because otherwise the server would wake up whenever any network packet targeting it showed up…which on most networks nowadays happens pretty much all the time.
Getting your server to stay asleep when it's not needed can be difficult. It also depends on what hardware you have attached to it, and what you use it for other than as a target for Windows File History. Here are some examples of things you may have to consider:
Using the server as a media server can cause it to be awake longer and more often than you might expect
Your network interface may be responding to other than just magic wake up packets
If mouse movement is set to wake up your server, simple jostling or vibration can activate the system
File system accesses can cause your server to refuse to go to sleep…which is fine when the files are being accessed to do something you want to do, but, unfortunately, sometimes accesses take place without your participation
In working through getting a server to stay asleep, the Windows powercfg command line utility, and particularly its ability to generate a report on what woke up your system, is often helpful. You can learn more about how to use it by searching the web.
Using Lan History Manager
Once your server is working the way you want it, and you've set up Windows File History to back up to it, you can start using Lan History Manager. Once installed, it will run whenever you log onto your computer.
You interact with Lan History Manager through its task tray icon. Here's an explanation of the various menu items (hover your mouse over the image to see the details; for some items, click the link that appears to be taken to the explanation).
Backup Every…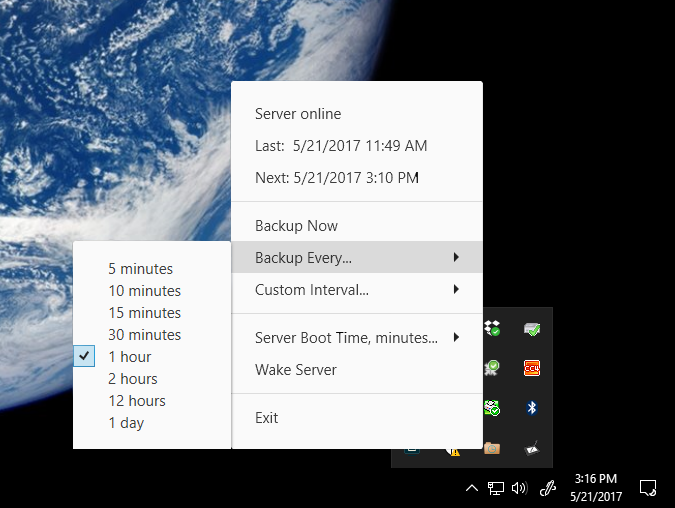 This option lets you select one of a predefined set of backup intervals.
The backup interval does not count time the computer spends asleep. In other words, you're selecting the amount of working time between backups.
Custom Backup Interval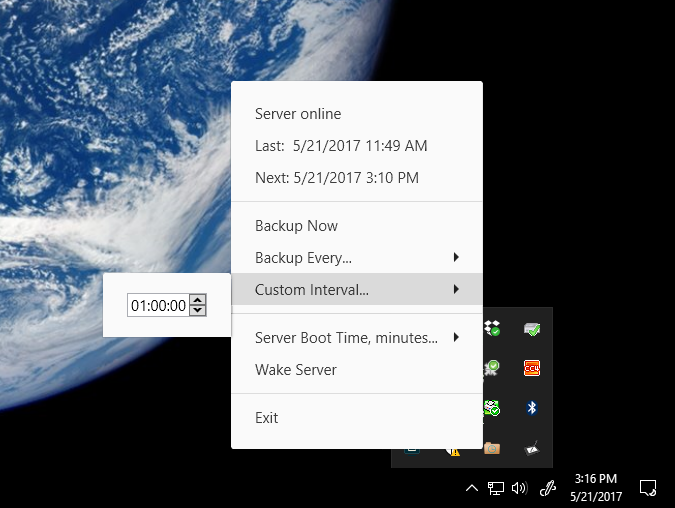 This option lets you select a custom backup interval, up to once every 23 hours, 59 minutes and 59 seconds.
Server Boot Time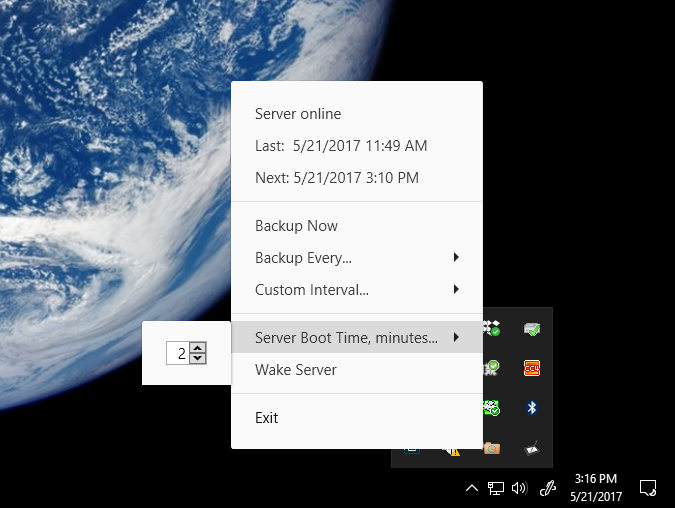 This option lets you define how much "advance warning" your backup server needs to come back from a powered down/sleep state to being ready to receive a backup. Lan History Manager will send a wake-on-lan packet to the server this many minutes before the next scheduled backup.
Source Code
The source code for Lan History Manager is available at www.github.com/MarkOlbert/LanHistory.